Today I stumbled upon this
wonderful woman
's incredibly beautiful
work space
and decide that when I 'grow up' I want an amazing space like that. My corners of piles of junk are not creatively conducive and I just wish I had the space time and energy to surround myself with such exquisite things. I craft to make the world beautiful, and I wish that my surroundings could always be neat, tiny, and full of splendor. When I grow up, I want a craft room, or at least a nook, that can be at least 1/10th gorgeous as that and conducive to my creativity. Meanwhile, I'll survive with my piles and messes, because at least I have the space for that, and maybe someday I'll be able to get it a little bit more organized.
In my clutter, last night I pulled a table out to the living room rather than sew on the floor as usual, and whipped my mom up some pot holders for her birthday (I only managed to finish about 13 pattern repeats of the branching out, I suppose she'll get that for mother's day.)
She liked them, and they are certainly an improvement on our old ones, which were really just old and falling apart.
Also, Wednesday I had some sort of mystery stomach flu, and stayed home from school. I wanted to craft, but could hardly muster up the energy, I was feeling this bad. Instead I rented Little Miss Sunshine and the Devil Wears Prada- both inspiring in their own very different ways- and spent most of the day on the couch. I did however, manage to make this little guy, because what's better when you're sick than a little toast?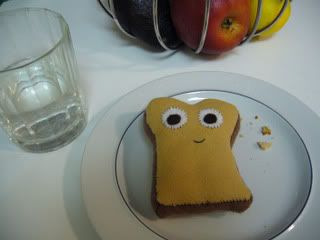 As I believe was pointed out on
Creative Kismet
, it is good to feel sick once in a while because it makes you appreciate feeling better. Well I know I appreciated feeling better on Thursday despite my unexciting lunch of crackers and jam to appease any possibility of a lingering upset stomach.
Well, that is all. I did receive a craft package with some nice earrings recently, and had a good evening of babysitting, and dinner and
pinkberry
with Mike and Laura. However, they did not appreciate how delicious pinkberry is, and their lovely 'kawaii' Japanese decor, as much as Helen and I do, so that may be a venue reserved just for us in the future. Otherwise, I'm a busy girl, so crafting is somewhat limited at the moment, though I do have a swap package to work on, but busy is good, and sometimes, that's just how it should be.