I haven't been accomplishing anything lately. Crafts, school work, it's all in senioritis mode. Admittedly it's kind of nice to just go to school and rehearsal and come home and read lots of inspiring craft blogs... but I need to make that inspiration go somewhere. At least I was inspired to do something when my beginning crochet kit came in the mail. It's not much, but check out my first swatch!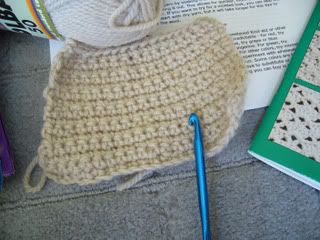 I decided mastering crochet chain, single crochet and slip stitch was enough for one weekend.
Today however, I finally picked up my dpns and the random, slightly ugly dk yarn I have a million balls of to start knitting my first socks.
It's not much, but I'm excited. I'm 'taking'
Silver's Sock Class
and so far so good- I've mastered casting onto and getting started on dpns (I only used dpns once before- for my no-ears kittyville hat, and that was started on circs. It gives me some mindless knitting (at least until I get to the heel) to do during rehearsal for a while... at least until I order the yarn for my first sweater (ambitious again, yes?)
Really I should be working on the crafty detective swap... or that branching out on which I stopped after (unlucky?) 13 pattern repeats and have yet to pick up again. I hope it will be done in time for mother's day... problem is, it just requires too much concentration, that I certainly don't have at the moment.
Well, I do have one thing that is a little more fun:
I sent this pouch (and stamp I used for it) to my partner in the DIY kit swap- along with a lot of other stamp making stuff of course. The pouch has a nice little brown lining from some small thrifted piece of material. It's my first, and so far only, use of that huge barrel of upholstery fabric, and though it's simple I'm really happy with it. It's going to take a lot more of these to use of all that fabric though! Haha, well one of these days I'll be back in full craft mode again, I know it.