I spent the better part of yesterday with my mother at the Manhattan Vintage Show, and it was absolutely wonderful. When I entered the doors of the Metropolitan Pavilion, I was in absolute vintage crafter and designer heaven. I was so overwhelmed that I don't know if I made the best use of my time, but I did manage to find what I was looking for: the perfect non-traditional prom dress, which turned out to be 1980s Mary McFadden, and not a bad price either! I also fell completely in love with a 1950s summer green and white eyelet dress, which although was not on the agenda, was deemed the perfect graduation dress, and also purchased. This one was a bit more pricey, being vintage Dior, but after getting such a good deal on the prom dress, and seeing how in love with it I was, my mom bought it for me anyway. She also got a kick out of how eternally grateful I was, doing favors for her for the rest of the day.
I also bought some amazing saddle shoes and an adorable, bright yellow 70s culotte. There was some lovely vintage fabric at the show, and I was especially drawn to a gorgeous piece with little poodles all over it. However, I was turned off after discovering the $24 price tag, though in retrospect, the booths all had such a wide range of prices that I should have looked harder. Ah well, there's always next time... I believe the next show is in October... hopefully I can come back from school to go!
Anyway, enough boring you with my rambles, and I apologize that I can't show you the dresses, but both of those must wait for their respect reveal dates before anyone lays eyes on them ;)
However, I can share a few things: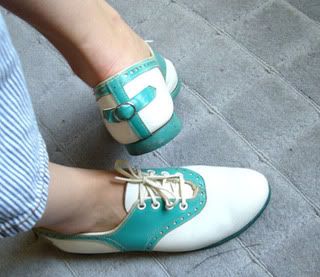 Those perfect saddle shoes, with real buckles in the back!
Can't you tell I'm ready for spring? Thank goodness the weather has been fabulous since Friday! (Oh, and do excuse the dirty hair ;P)
Well, I suppose that's all I have for now. I'm sorry this blog has been more clothes and less craft lately, I've been awfully busy, and mostly working on things for other people, but I promise to have some crafts to post soon!