It was hardly hiding, just under my desk, though I'm so sure I looked there. Anyway, what's important is that I can post pictures again.
So, the kittyville hat. I finally decided against the ears, it makes it more wearable. Though I have a blue and pink monster fur hat with bear ears that I found very wearable for a long time, it just doesn't go with my new winter coat, haha. Anyway, I like it how it is, and I can always add the ears if it strikes my fancy. Done in the suggested mission falls, it's much purpler than it looks here: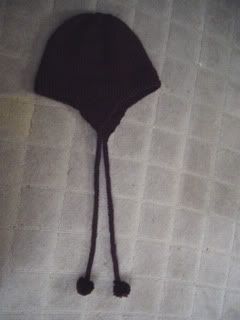 excuse the pjs and the toilet in the background, it's hard to take pictures of yourself ;P
As a mentioned, I also did some yarn recycling. 100% fine merino wool, recycled from a $6.99 thrift store sweater. The dyed skein is a much richer cranberry in the darker spots and pinker in the lighter spots, except a few where it stayed rather grey.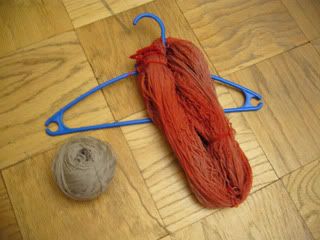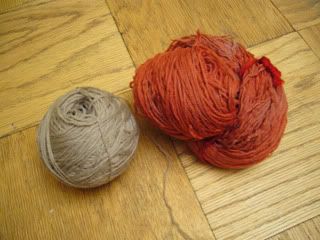 It doesn't look like much, but that's because the yarn is a pretty fine weight, I would say probably fingering weight. The entire back panel of the sweater is still un-recycled and I had to get rid of some of the sweater since I didn't do an amazing job of getting it apart at the seams (especially on that back panel, which is why I haven't tried to recycle it yet, haha) Anyway, the grey ball is from the sleeves, and the red skein/blob is the front panel, died in the microwave with 3 packets of kool-aid. The color's not all that evenly distributed, but I'm happy with it- especially considering that this was my first time both at recycling and yarn dying!
Oh, and the fingerless gloves were received very well :) She said her mom complimented them too!
I also just received the happy hooker from amazon- one copy for me and one for Helen, who already knows how to crochet, time for me to learn another craft!
Last night I did my first cable, inspired by Helen who brought her first cable swatch to school on Friday- what can I say, I have to keep up, haha. Even though it's just a little swatch I think it's given me the confidence to attempt a project with them... when I get some of my current WIPs done... or not... we'll see ;P
Instead of starting on my mom's birthday gift, or the knit pear I promised Laura, or my first pair of socks, last night I started a t-shirt quilt!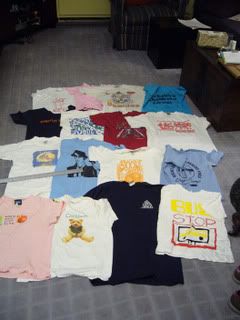 After taking this picture I cut out all the designs with a 14"x14" template I made from file folders and started to iron on interfacing. The facing isn't cooperating though, it just won't stick, I don't know what I'm going wrong :\ Ah well, it stuck in a few places and if worse comes to worse I can always sew the rest on. I have a lot of time to finish this one though, I just want it to be ready for college next year. I'll probably need some more t-shirts, but I have some more from shows I've been in, though some I actually wear so won't cut up, and want to get another t-shirt from my school to chop. I vow to finish this project, even if it doesn't happen until the summer.
I think those are all the updates in the craft world for this evening. I think I'm staying in tonight as I'm kind of cranky with the friends about supposed spring break plans, and Mike has his job until 9 anyway, so maybe I'll get more done. I should do homework, but crafting is the greater good... or evil ;)