On the way home from rehearsal last night I stopped at Goodwill for a quick look around, to see if there was anything worth my while. There was! I got two pieces of 'fabric' and a lovely yellow, wool sweater.
When I got home, I set to work fixing a pencil case my friend gave me. She got it in China and loves it, but the zipper was pulling apart and one of the ends came apart as well. So I unpicked the whole thing, added a new pale pink zipper (it had a white one before, but I liked the pink) and sewed it back together: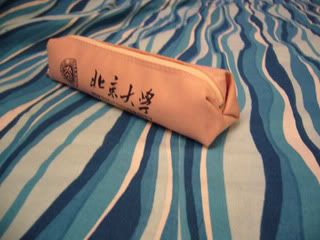 you can see it on top of the first piece of 'fabric' I got at Goodwill, which turned out to be a shower curtain when I got home. I really liked it, and so contemplated putting it up, but instead made another pencil case for my friend (It's her birthday today):
I used the shower curtain fabric and covered it with clear vinyl so that it can be wiped off when it gets dirty in her bag. I made it in the same style as the one I fixed, but after I finished I realized my zipper isn't as nice because I didn't fold over the edges, ah well, I'm still quite happy with it, and it was my first time working with vinyl, so it was a little challenging, but not as scary as I expected ;)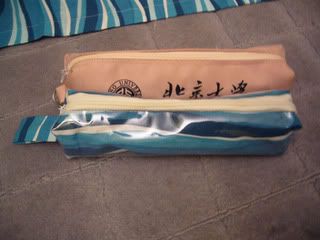 Here is the other fabric, actually intended to be fabric, that I got at Goodwill:
I had also picked up a sweater, and when my Dad came in to tell me Guys and Dolls was on PBS, I turned it on, and started unravelling. I only did the front panel so far, but it's such a large sweater- I know I'm going to get a lot of nice things out of this!
Right after unravelling: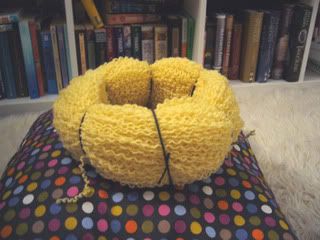 Drying in my bathroom this morning: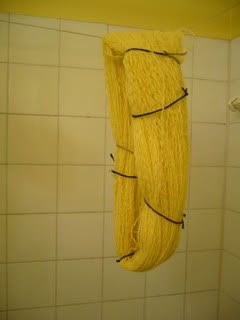 My partner for the owl swap also received, and so I have some things to show off from that:
group: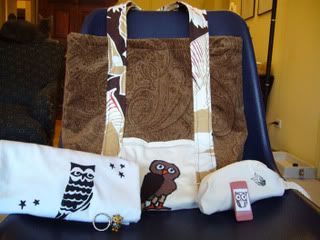 Bag lining and applique: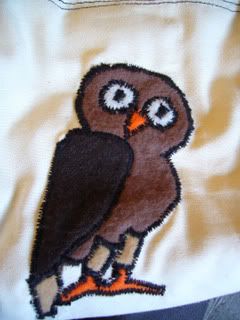 shirt: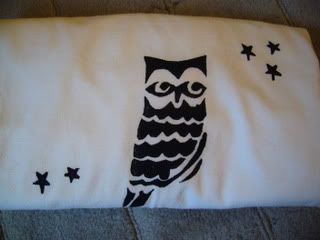 key chain, mini-bag, and stamp: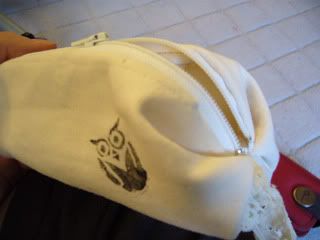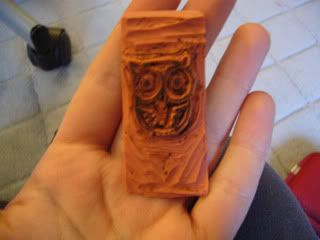 This was my first two times carving stamps, and then stamping fabric (the lining and mini-bag) and also my first time doing applique. It was a great swap! :)
*Gallery*
anyway, I think that's all for now. Only a week until February break when I have so much to do, so many people to see, and so much to craft! <3