a blog. So, welcome to my brand new craft blog, The Natchbox. Why The Natchbox? Well, I'm Natch, often known as Nathalie or Nat, and I'm just super witty, alright? ;P Anyway, now that I am practically a second term senior and have a little free time on my hands, I wanted to establish my own little place on the web where I post my crafts, etc. I love to sew, knit, and stencil, and am always experimenting and trying new things.
Anyway, I thought I'd start out with a few of my most recent finished objects and works in progress.
First, a reversible tote bag I made from a navy bed sheet, interfacing, and red star fabric I received in a swap. It was based on the tutorial found
here
. The pockets on mine are a bit short, and I had to switch threads from dark red to lighter red partway through, but overall I'm very happy with it. I took it to my Cornell interview today (navy side out) and received a compliment from my interviewer!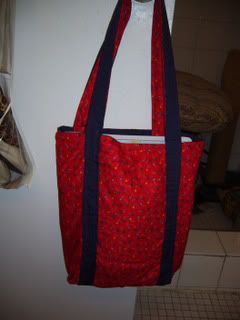 and a close up of the red star fabric and my wonky top stitching: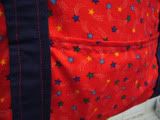 I also stenciled this shirt last weekend, inspired by a Mary Poppins bag challenge on craftster, which I probably won't get a chance to enter. I love Mary Poppins, so I decided to stencil a T-shirt instead. I made the stencil myself, based on a movie cover, and am quite happy with the result. I'm trying to decide if it needs something else, but I've already worn it and gotten some compliments, so we'll see if I feel like making changes.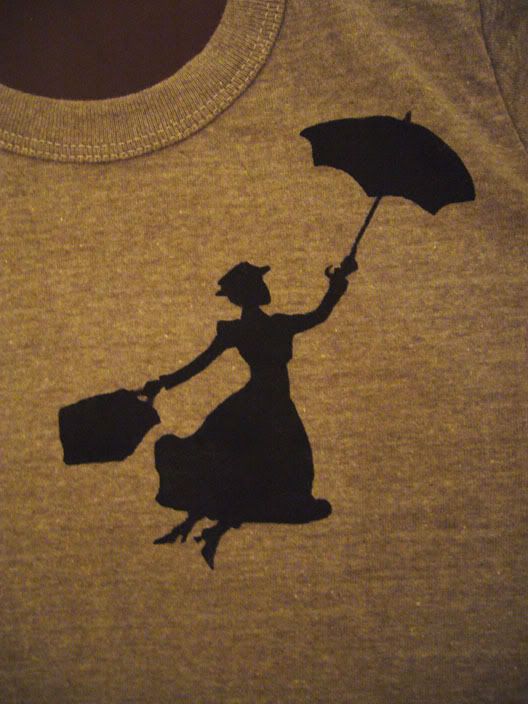 Last but not least, I am working on these fingerless gloves for a friend's birthday on Monday. I finished one last night and cast on for the other this morning. They are a super quick knit, from
this
site, and I am loving the result!
I am also working on some things for a swap, but can't show any of that off yet.
Anyway, to a future of happy crafting and posting, cheers!