Wow, it's been a long time again, hasn't it? Well, it really is summer now, and I hope to be able to bring you more consistent, continuous, craft filled posts in the near future.
Any the way, this weekend was the Renegade Craft fair in Brooklyn, and it was absolutely spectacular! It my my first time attending the event and my mom accompanied me since Helen couldn't come with (her grandfather passed away, and on father's day- how awful!) :(
Despite the sad news, and once I overcame my shell shock, I had a truly terrific time! While I was still too shy to really say hi to some of my favorite bloggers/craft world idols (such as
Heidi
and
Emily
) I did partake in the buying of their wares, which are only that much more wonderful in person. If anyone saw me, I was the sheepish girl with big rectangular sunglasses and a brown t-shirt reading "Natch." (I made it for the occasion, but don't have photos as of yet because it's in the wash- boy it was hot yesterday!)
In the end, I did my best to control my spending (that was certainly a challenge) and came home with: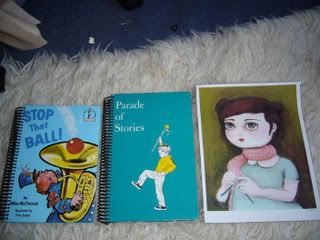 Two journals (I am so in love with everything this guy makes! These books are blank journals with some of the original pages interspersed and are quite possibly my new favorite thing!) from Jacob at
ex libris anonymous
. The tuba one is for me (of course) and the other (which also has the most charming illustrations inside) is for Helen. This guy will even make notebooks out of books you send him for only $9 a peach! How fantastic!
And, a beautiful print from Miss Emily at
theblackapple
which is already hanging on my wall (though still in it's plastic as I have no frame and it is certainly worth protecting)
A used tissue for Helen (I thought it was ironically appropriate... but also darling) from the wonderful Heidi over at
mypapercrane
. Though I'm wishing I bought something of hers for myself, I kept gazing wistfully back at those cute little milk cartons...
A wonderful monster from
Mad Science
, who is new to me, but I'm so glad I discovered.
and a cute little clutch from
cotton cupcakes
, which is the only purchase I'm regretting just a twinge, because I know if I tried really hard, I could have made it myself. (Though not with that lovely owlie fabric...)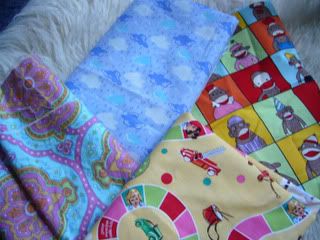 I also picked up some fabric (and a free lolly) from the reprodepot booth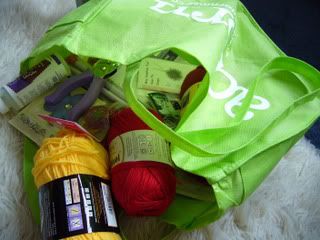 and won a raffle at the adorn and knit magazine booths! The bag was filled with yarn and other goodies, and the included crochet hook inspired me to give crocheting another try when I got home...
resulting in my first crochet FOs, three lovely little flowers: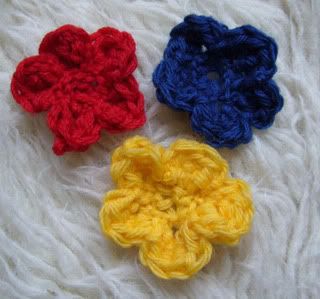 I'm certain I didn't do it "correctly" but I think they came out alright. Now I want to make a cloche hat to put them on. (I tried on and fell in love with
this
hat at the fair... but $100-$140 for a hat, even as stunning as that, I just can't afford)
More craft and less shop soon. I have a few FOs to blog about. I know you don't believe me, but I swear!