Yes, I know, it has been quite a long time. Well, now that my senior year is drawing to a close, my APs are over, and so are the band concert and the musical (which both went fabulously well), I finally have some time to craft again.
I'll start by sharing something that I made quite some time ago, but it's pretty exciting as I suppose you could call it my first commissioned work. A double sided stamp for someone who plans on using them in their jewelery: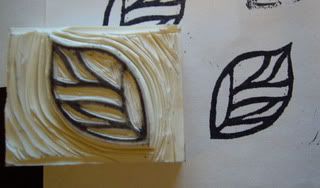 More recently, inspired by the fact that I was unhappy with my summer wardrobe, and still had very little time to go shopping, I also started work on a dress using the fabric I got way back in San Franciso.
No pictures of the dress itself yet as I still need to add straps and hem or cut it to a length, but I think it's looking good so far, and I'm pretty proud as I just made it up as I went along.
However, I did complete the reconstruction of an old pair of jeans into some shorts. I wish I had a before picture, but these were jeans I had played with when I was younger, and entirely destroyed. I had ripped the side seams out to add big triangles of Asian inspired fabric that was now in a state of fray and decay. There were also some crude patches sprinkled over the lower half of the jeans. It's reasonable to say that after this job I never wore them, at least out of the house, again. Recently, I brought them back to life by cutting the pants, ripping the seams open again and removing the fabric, and then sewing them back up to a normal size. I then added the lace to polish them off.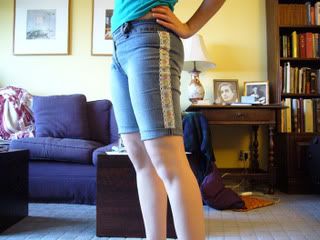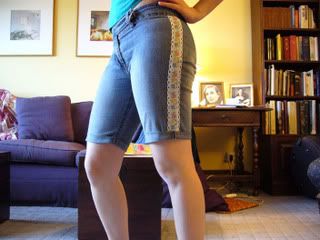 Lastly, I spent memorial day weekend up in the Berkshire's with my Grandparents, and got a chance to pay a visit to Joanne's. I picked up some cute fabrics and discovered some Dritz cover button kits, which I picked up with very little confidence, thinking they wouldn't work well. However, I was elated to find out that I was wrong! I am in love with these little things and my only problem is that now I want more, more, more! However, it'll be a while before I can go to Joanne's again, so I settled for making 3 cute buttons which, no pin backs available, I sewed on to the messenger bag I am now using for school, as the end of senior year has rendered my Jansport obsolete.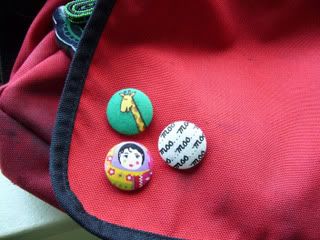 the moo print fabric and the matreshkas are both new from Joanne's, while the giraffe is from something older from P&S.
This weekend I also finished up my prom shopping with some great shoes and a bag. Soon I'll be able to show you those fantastic dresses I raved about... prom is on Thursday!
Any the way, I can hardly wait for the move in to summer so I can start making more and more things! ...I'm also excited for my move to college in mid August!
Did I mention I'll be joining fellow crafter Avian Flight at Cornell University in the fall?
I apologize for how long overdue this post was, and for my lack of eloquence today. I hope I can bring you more frequent quality blogging in the future ;)